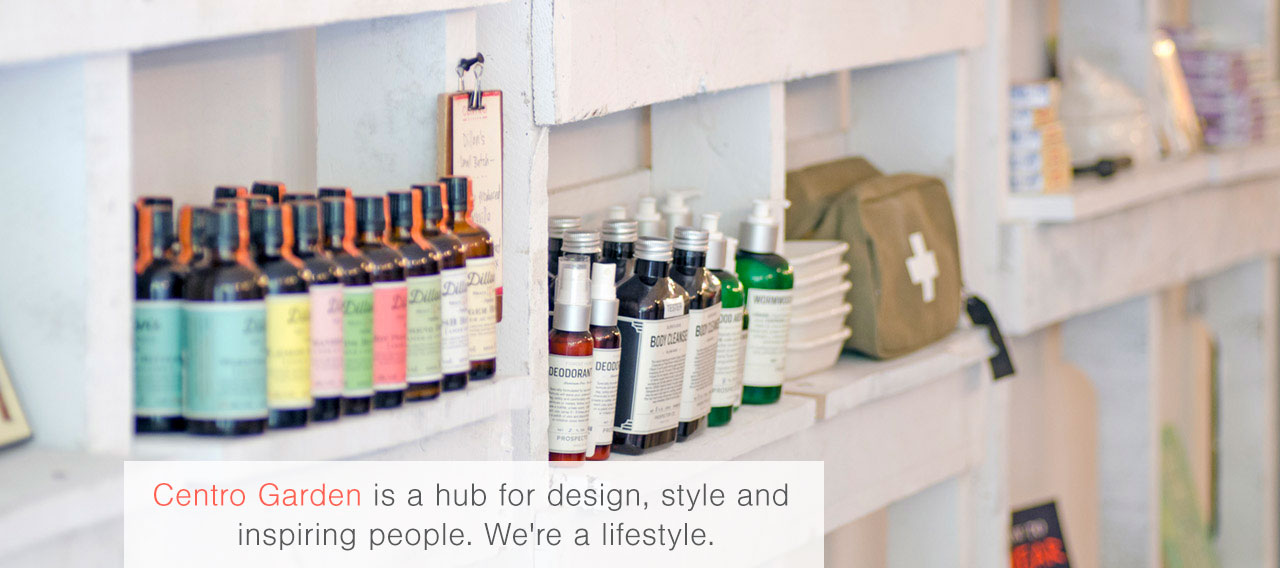 WE INVITE YOU TO VISIT AND INDULGE YOUR SENSES.
WE GUARANTEE YOU'LL BECOME INSPIRED WHILE YOU DISCOVER GREAT THINGS, GATHER NEW IDEAS AND MEET AMAZING PEOPLE.
Visit Us in Store
Centro Garden is a unique urban garden store that features exceptional and beautiful design from around the world but most importantly, from around the corner too. If you are a local designer or artist and have a great product or design specialty that you think would be a fit for Centro Garden, please contact us. Our goal is to feature as much local design as we can reach:
Jennifer — info@centrogarden.com

Employment
Centro Garden hopes to be an inspiring place for everyone – customers and employees alike. Consequently we're always looking for inspired people who are passionate about life; be it design, gardens, travel, plants, interiors, music, espresso or just about anything — because we are too. If you feel we're talking about you, and have some experience in working with the public, pop in or email your resume to:
Jennifer — employment@centrogarden.com
Located
Centro Garden has 2 locations in the historic downtown centre of Burlington Ontario. Centro SOCA is across from city hall and Centro NOCA is across from No Frills Plaza.
Centro SOCA (South of Caroline)
t 289.337.5755
f 289.337.5753
437 Brant St
Burlington, ON Canada
L7R 2G3
Find Us: Map
Centro NOCA (North of Caroline) is also now open!
t 905.635.0543
590 Brant St
Burlington, ON Canada
L7R 2G9
Find Us: Map
Hours
Our Regular hours for our locations are:
Monday – 10:00am – 6:00pm
Tuesday – 10:00am – 6:00pm
Wednesday – 10:00am – 6:00pm
Thursday – 10:00am – 6:00pm
Friday – 10:00am – 6:00pm
Saturday – 10:00am – 6:00pm
Sunday – 9:00am – 5:00pm (Centro Garden) and 10:00am – 5:00pm (Centro NOCA)
Shopping Online and by Phone
As a reminder, we are also open for telephone and online orders at this time. Pickup is at Centro Garden for these orders.
Email Contact
General inquiries: info@centrogarden.com
FEATURED PRODUCTS
A smattering of what's stylish and new instore.