One of the standout trends that we are seeing is golds and brass tones in metals as well as design objects, books and wares. It was inevitable that there would be a shift from the stark seriousness of silver but the reason is more than simply a pendulum swing.
These warmer metals are a practical and enjoyable bridge between vintage and contemporary that allows for a more eclectic harmony between the old and new. They also tend to tarnish more resulting in a natural and used look that softens the newness of the object. But we also see it as a subtle drift toward a little more luxe which also helps contemporary interiors introduce a little vintage or eclecticism into the mix.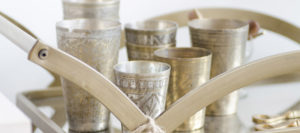 Gold Bar Cart 9
Brass Frame and spotted mirrored glass
Two rotating and two fixed wheels makes this cart functional as well as stylish.
Brass Cups $39
Vintage Brass Lassie Cups from India
Hand embedded designs
Each glass has a unique shape and finish